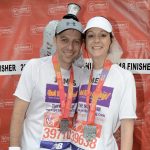 The last 6 months has been one of the biggest challenges of my life without a doubt!
With the date set for our wedding, and the other small matter of completing the infamous London Marathon on the same day, not to mention the fund raising for our charity Get Kids Going!……there was plenty to think about. You may have seen my last post about how we approached it all and how the same can be applied to your voiceover career….or any line of work to that matter.
Now it would be all too easy to follow this up with a simple post to say 'we did it!', job done! But the days events didn't all quite go to plan! And therein lies another opportunity to link to a 'day to day' business practice it's essential to put into play if you want to reach your end goal.
Do you plan? Set yourself goals and work out exactly what you need to do when? How about what resources you need and what approach you might try along the way? And then how about the 'what ifs'? Do you plan for those too?
Because you should!
My 'planning' roots ensured we had a failsafe plan ….the end goal to get married, complete the London Marathon and raise shed loads of money for Get Kids Going!…. all in the same day. And I'll let you into a secret here – although we said we'd be happy with whatever time we ran the marathon in, we did think we'd do it in under 5 hours. A tall order for the day I agree but in our minds….not inconceivable. All the i's were dotted and the t's crossed for the wedding and we'd followed the training plan to the letter for the run. What could go wrong?
The photo is a giveaway, as you know we made it to the end. A well-orchestrated plan for the early morning part meant the wedding was all done by 7.45a.m. without a hitch (ha sorry, an unavoidable pun!). A beautiful start to the day. So just the small matter of 26.2 miles to go…oh and a couple of media interviews chucked in for good measure.
And this is when the wheels came off a little, just like in everyday business. Stuff happens, something that you hadn't expected, hadn't experienced in all the trial runs you'd done to date….so what do you do? Soldier on? Grin and bare the hiccup? Take the chance it results in disaster? No, of course not! You re-look at the plan, remind yourself of the end goal and revise your approach to make sure you can still achieve it….that's what you do.
I felt sick from about mile 9, something I'd not experienced at all in any of our training runs (not even the 20 miler!)…..I've no doubt it was a culmination of the build up to the days events, the incredibly early start, the magnitude of the occasion, topped off nicely with 'the hottest London Marathon on record' (thank you mother nature!). To start with I admit I soldiered on…..we had pre-scheduled media coverage at mile 12 (Buxton sponsors), mile 13 (BBC Sport) and of course family and friends that had lined the route. And with the media attention we had I felt sure if I was sick it would feature on some footage somewhere or other!
So I held it together 'til about mile 18 where I spotted a gap in the crowds. I apologise to the small child who tried to offer me jelly babies, and give thanks to his mum who swept him away to allow me a bit of space to, well, do what my body had been crying out to do for many miles now. With the 'in sickness and in health' vow put to immediate effect my now husband James admits that he was thinking the same as I was. With the 100s we had witnessed collapsing around us along the way we were both questioning whether we would actually make it to the end. Not one of the what if's that I'd wanted to even consider.
But those of you that know me well enough will know that's because it wasn't an option. We simply needed to review the plan…..adjust our approach…..admit we couldn't run to the end as planned…..so that's what we did. We eased right off, soaked up the crowds and danced for the bands when they shouted 'first dance for the bride and groom' (without considering we may have '1st danced' at the band before them!). With a smile on our face we waved at the cheering and congratulating strangers, enjoyed hugs from family and friends along the way and rocked up to the finish line in an impressive 6hrs 22!
So, aside from recalling the amazing memories we banked, I'm here telling you this story as a reminder that whatever your goal may be, it IS achievable! But you need to have a plan (and all that goes with a well developed plan) and mindful that you may have some unexpected hurdles along the way. So be prepared to review and revise what you're doing…….and you too could wear your medal with pride.
Thank you to everyone who played a part in what was indeed the most memorable day of our lives! To all who cheered us on, lifted our spirits, donated to our charity (which you can still do by the way by clicking here!) and to the most wonderful St Johns Ambulance team that supported me at the end.
We couldn't have done without you all!