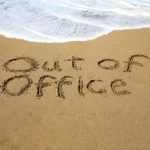 How funny that only this morning my wireless keyboard batteries decided they'd had enough!
But the truth is we all run out of steam and need to stop the world and get off every now and then.
And it's that time right now for me!
I'll be out of the office for the next couple of weeks or so enjoying some well deserved family time. And out of the office means out of the office for me. I know others like to make themselves available still and I've read many a story about recordings under a duvet, in a hire car or the hotel closet! But that's not for me. 100% dedication to the family and a battery recharge without work distractions is so important to me; and ultimately better for business and my clients when I return all bright-eyed and bushy tailed.
So on that note I wish you all a wonderful summer – whatever you may be up to.
See you on the other side (all refreshed and raring to go!).
(I'm back in the office on August 2nd).